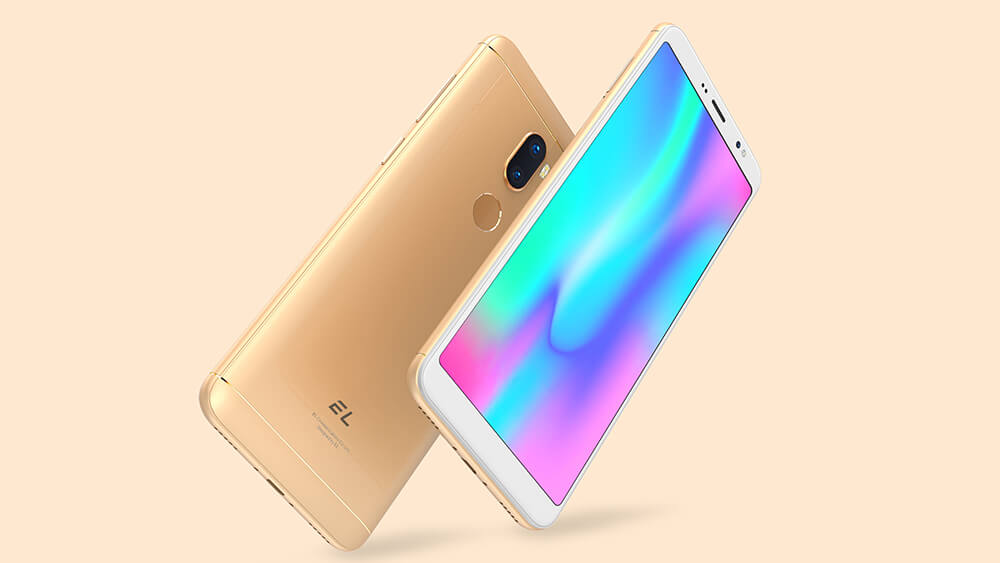 Let's take a look at the EL Y10, which could quite possibly be the best looking budget phone you've ever seen. It's perfect for the light Android user who spends most of their time on social media, email, video and web browsing. Gamers-beware, there are better options for you! Next let's have a detail view about EL Y10 full screen all rounder smartphone!
Display & Design
Starting off with the display, the EL Y10 comes with a 5.7 inch 18:9 full screen IPS display with a resolution of 960×480 which bring you ultra wide aspect ratio, super clear and wide viewing angle. By slimming down all the bezels, we created a 5.7 inch phone with a handfeel of a 5.2-incher. You will love that handfeel. The Y10 is a true show stopper, It is bright, vibrant and color-accurate, and the brightness is good if you don't take it into direct sunlight.
Build quality is what we've come to expect from EL Mobile. Pretty damn good! While it doesn't hold up the iPhone standards, it doesn't creak or bend when applying pressure. Inspecting the phone closely, showed no moulding errors or gaps in the seams between the metal frame and the glass.
EL Y10 uses a sleek metal back design to add to the premium hand-feel, the highlight of Y10. With its rounded curve. The soft touch back is made from aviation grade aluminum, with high gloss inlays at top and bottom, creating a stunning look and every color shines with its own characteristics.
The EL Y10 's colors are rich, there are four popular colors device: gold, red, black and blue;
Display Tech Specs: 5.7' full screen display, 18:9 aspect ratio, 960×480 resolution,

Available in Colours: black, blue, red, gold

Dimensions: 151.6mm x 73.6mm x 9.9mm

Weight: 158g
Performance
Coming to the performance side of things, Y10 is powered by a fast and efficient quad-core processor, with 2GB RAM and 16GB ROM, outperforms it's predecessor by up to 40%, delivering smooth experience. It's worth noting that this is the Android phone for power-users. It's aimed at most users who mainly stick to email, social media, web browsing and games. Video playback on Netflix and YouTube is smooth.
Having the the latest Android 8.1 with several handful additional features powering the device does help it to utilise its minimal resources.
Quick Tech Specs:
CPU: Quad-Core 1.3GHz

GPU: ARM MALI-T720 MP3

RAM: 2GB

Storage: 16GB
EL Y10 – Camera
Y10 uses two rear cameras, a 8MP main camera and a 2MP secondary camera, the rear dual camera pairing at the back takes decent quality pictures when in bright conditions.
Y10 features a wide angle 8MP front camera so you can add more friends into your selfies. with dual LED flash and F2.2 large aperture, making every photo sharper and brighter. With years of experience accumulated in photography algorithm, your selfies will be clear than ever.
Battery
You'll get a full days use from the 3350mAh large battery and advanced battery saving technology we find in the Y10. The density of Y10's Li-Po battery reaches up to 650 Wh/L, it also features 600 battery cycles which means it can still retain 80% of the rated capacity after 600 full charge/recharge cycles, you can get a 12 Days standby time, 20 Hours talk time and 12 Hours music playback smartphone
Other Features
In terms of connectivity, EL Y10 get Wi-Fi 802.11b/g/n, Wi-Fi Direct, hotspot, Bluetooth v4.0 and 2 + 1 card slots for dual nano SIM cards and microSD expansion of up to 128GB. Stay connected on worldwide 4G network and never worry about running out of storage.
And you will get two ways to unlock, Y10 features two super fast ways to unlock your phone, rear fingerprint sensor and face unlock, all in a speed of up to 0.3 seconds.
These are the EL Y10 mainly introduction, Y10 is a great budget phone, that covers all the bases, do you want to get one?