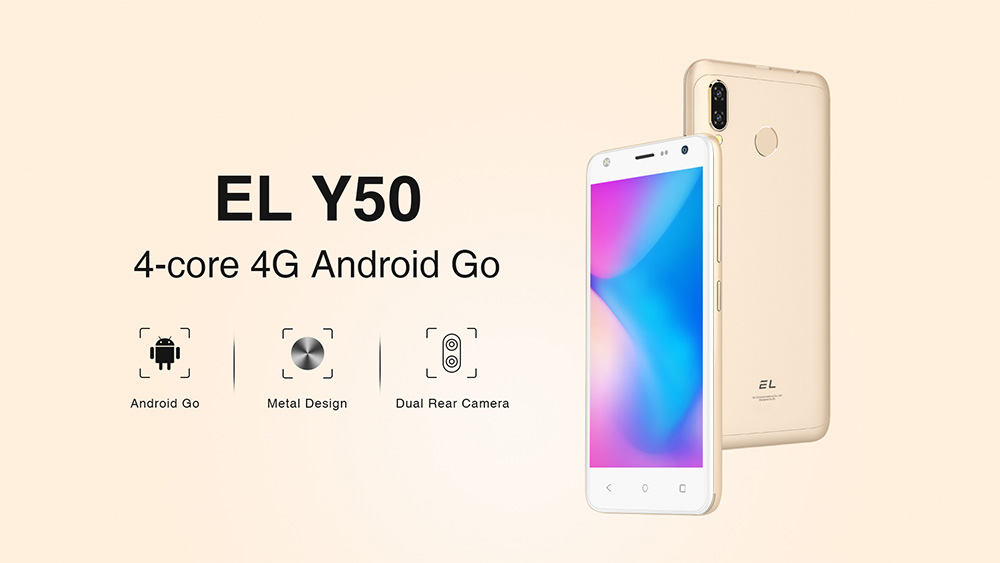 In the end of 2018, EL Mobile released the new 4-Core 4G Android Go Smartphone, EL Y50. So, what makes the EL Y50 stand out from the crowd? For starters, its has a beautiful design which come with uses a sleek metal back design to add to the premium hand-feel. It's also one of the only super-budget smartphones to feature 4-Core CPU, 4G network and , Android Go.
Which I'll review in detail later on. Other highlights include AGC Glass protection, a selfie flash and a fingerprint reader. So let's take a look at the EL Y50 in this full hands-on review looking at Design, Build Quality, Performance, Connectivity & Battery Life.
Design & Display
EL Y50 uses a sleek metal back design to add to the premium hand-feel, the highlight of Y50. With its rounded curve, Y50 is a joy to hold, and behold. Onto the display and we get a high brightness 5.0-inch display with RawColor technology, brings you a brighter and clearer visual experience. Using an 16:9 aspect ratio puts the width of the phone at a nudge under 71.4mm. Easy enough for me to use one-handed. It's not full-HD, the HD+ resolution at 854×480 FWVGA.
The EL Y50 's colors are rich, there are four popular colors device: gold, red, black and blue; you can choose your favorite color.   
Let's be honest, you're going to struggle to get a more premium device than the EL Y50 in this price-range!
Performance
Y50 is powered by a highly efficient quad-core processor, with 1GB RAM and 8GB ROM, delivering fluent experience. The EL Y50 come with 4 cores it makes easy work of Android 8.1 and while not the fastest chip in town, it's a solid performer. It would have been nice of EL to have unleashed the chip to it's full 1.3GHz potential. Games and photo editing apps take a little longer to load but switching between social media, web browsing and YouTube is buttery smooth thanks to the quad-core CPU.
Specs:
CPU: 1.3GHz Octa-core 

GPU: ARM mali-T820

RAM: 1GB

Storage: 8GB

Expandable: YES (microSD,up to 64GB(dedicated slot))
Android Software
The EL Y50 comes with EL OS, EL OS is based on vanilla Android 8.1 with custom UI and several handful additional features which is good news for security and performance. Go big with faster performance, more storage, data management, and security.
Camera
Y50 features a 8MP primary rear camera with 2MP secondary camera, capture the perfect moment, even under low-light conditions! Rather than making a fake blur circle around your photos, the EL Y50 actually adds bokeh. And Y50 has a wide angle 5MP front camera with soft light front LED flash so you can take nicer selfies no matter when and where you are. With years of experience accumulated in photography algorithm, your selfies will be more stunning than ever. With pricing-considering, these phone's camera with so cheap price is well worth to buy.
Battery Life
EL Y50 with a removable 2100mAh high density battery and our own battery saving technology, our Y50 can last a full day of medium-to-heavy use without charging. The density of Y50's Li-Po battery reaches up to 650 Wh/L, which is 35% higher than common ones. It also features 600 battery cycles which means it can still retain 80% of the rated capacity after 600 full charge/recharge cycles.
Fast Unlock
Y50 features rear fingerprint sensor with a speed of up to 0.3 seconds. 
Specs:
The Y50 certainly looks the part, scoring highly on the design thanks to those reduced bezels. If you can't decide which budget smartphone you want, go and check out the EL Y50 4-Core 4G Android Go Smartphone… it just might surprise you.