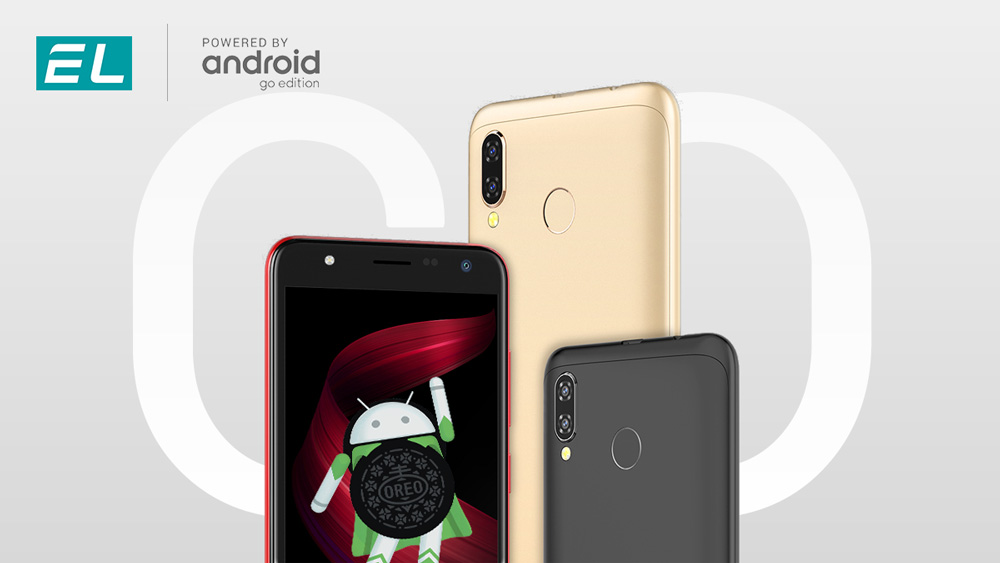 As we all know, Android Go is Google's plan to make the latest Android system available for more users around the world. With a series of optimizations and pre-installed lightweight applications, Android Go provides a smoother experience to the lower-end devices; it also saves storage space and data traffic. According to Google, with the management of memory and storage space, Android Go's pre-installed applications can reduce the application size by 50%, while the memory footprint is also greatly reduced. Through the Android Go program, Google hopes to further popularize the smart devices of the Android system to more countries and regions, and tap the next billion-level user group.
EL, the company with the slogan "Enjoy Life" and more than ten years of expertise in the mobile phone industry, has always put user experience first. At EL, software experience is considered as one of the most important aspects of user experience. No matter it is a flagship or lower-end phone, EL commits to every aspect of its software experience to deliver a fast and joyful experience.
For example, the independently developed RawColor technology of EL adds icing to the EL phone's screen and brings better color reproduction. SunBoost brightness enhancement technology is similar to "overclocking", which makes the mobile phone break through the maximum brightness limit in a short time in order to improve visibility in bright conditions without affecting the lifespan of the screen; in addition, for the battery anxiety that is common to current smartphone users, EL adds carefully tuned battery optimization for its high-density and large-capacity lithium-ion batteries. It dynamically adjusts the resource usage of the background apps, making the battery last longer.
Over the years, EL has been keeping pace with Google's systems and software development and has been working closely with its teams. The launch of the new EL Android Go series product line is the latest achievement of cooperation between the two parties. EL believes that there is still a huge room for improvement in the penetration rate of smartphones around the world, and there are still countless consumers who have not been able to enjoy the convenience and pleasure brought by high-quality smartphones. As a lightweight and easy-to-use new system, Android Go is very suitable for the needs of consumers in emerging markets, and the market space is huge. With EL's years of deep cultivation and continuous improvement in product quality, the new EL Android Go series mobile phone will start another revolution!
It is reported that the first model of the EL Android Go series will be the brand new Y50. Y50 supports 4G VoLTE, its main configuration includes 5 inch 854×480 resolution high brightness screen, SC9832E quad-core processor, 1GB RAM and 8GB ROM, dual 8MP plus 2MP rear camera, 5MP front camera, and 2100mAh Li-ion battery. The system is Android Go 8.1. Colors include black, gold, red and blue.
Here are the major features of the EL Y50.
Sleek Metal
The Y50 has a sleek and stylish design, with a metal back cover which offers great hand-feel.
Brilliant Display
The Y50 features a 5-inch 16:9 display with a resolution of 854×480, and is covered by a 2.5D glass. It has high brightness to offer great outdoor viewing experience and is powered by EL's RawColor display enhancement technology that brings true-to-life colors.
4 Core 4G
Y50 supports Dual SIM 4G LTE with VoLTE support with up to 64GB microSD expansion. It is powered by a fast and efficient SC9832E quad-core CPU, 1GB RAM and 8GB ROM, and 2100mAh battery, delivering smooth experience for everyday use.
Dual Cameras
As for cameras, the Y50 sports 8MP+2MP dual rear camera with a 5MP front camera, double your photography potential.
Lightening Unlock
Y50 features a rear fingerprint sensor with up to 0.3 seconds unlock. With a dedicated ISP chip, it gets faster with time.
Latest System
Last but not least, Y50 comes with Android 8.1 Go with upgradability to Android 9.0 in the coming future. Enjoy faster speed, more space and bloat-free experience.
More Info
Y50 will be rolled out simultaneously in major online platforms and offline channels in major countries in Africa, East Asia, South Asia, Europe and South America. The pricing is expected to be extremely competitive, welcome to visit EL's official website for more detail about the Y50!
EL Y50 Spec Sheet
| | |
| --- | --- |
| Model | Y50 |
| Display | 5-inch 16:9 854×480 |
| CPU | SC9832E 1.3GHz Quad-Core |
| RAM | 1GB |
| ROM | 8GB |
| Rear Cam | 8MP+2MP |
| Front Cam | 5MP |
| Battery | 2100mAh |
| Fingerprint | Yes, Rear |
| SIM Card | 4G Dual SIM |
| Expansion | up to 64GB |
| Connectivity | GPS, FM |
| OS | Android 8.1 Go |
| Size(mm) | 143×71.4×10.9 |
| Weight(g) | 180g |